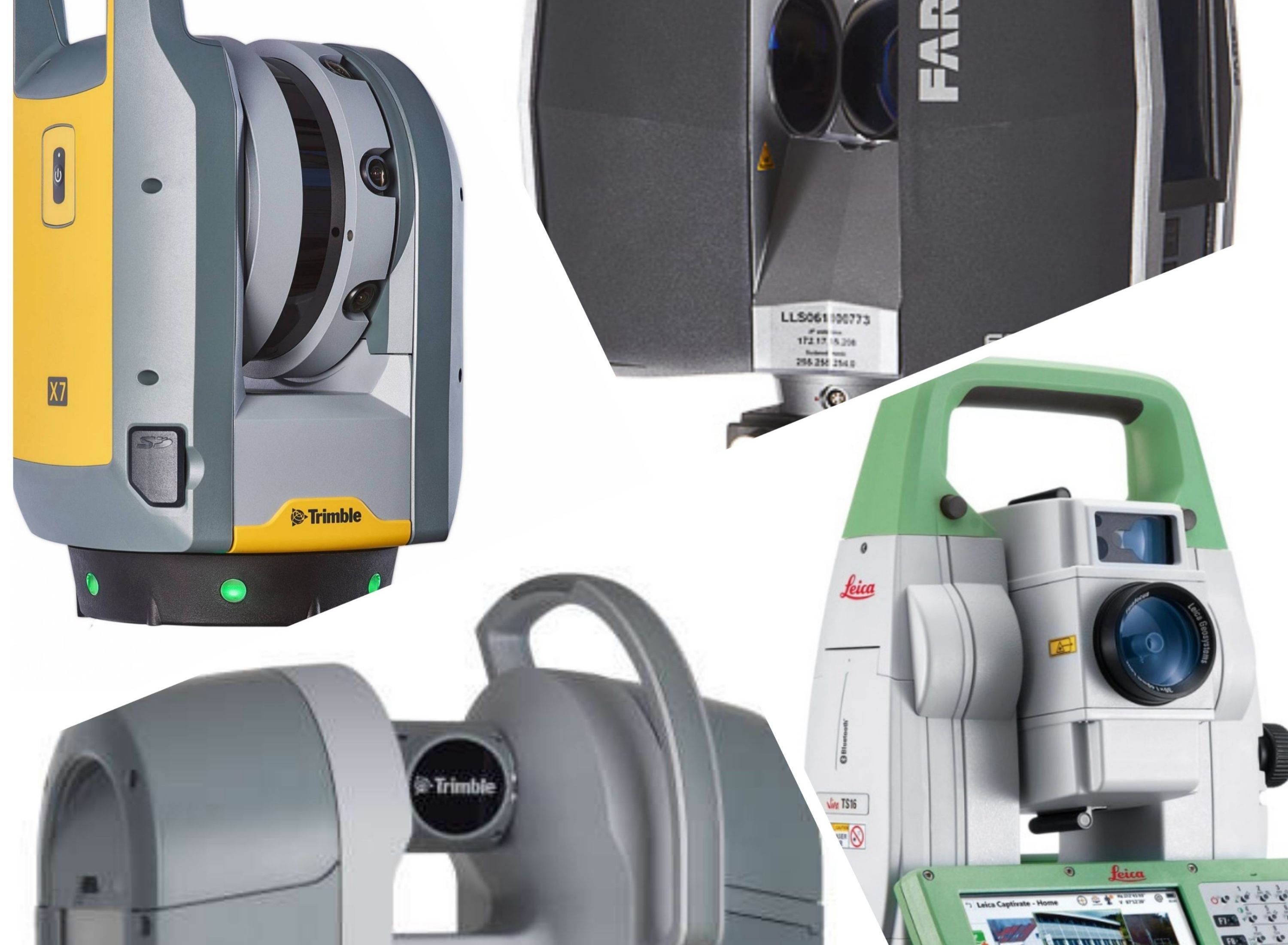 LASER SCANNERS: We have a range of laser scanners which include the Trimble X7, Trimble TX8 and Faro X130 models. This variety allows us to cover a range of different environments and client needs. Laser Scanning allows the collection of millions of individual measurements forming a 3D co-ordinated 'cloud'. This means that whatever the client's needs from a survey, the data is captured and it can be manipulated to produce 3d BIM Modelling, Point Clouds, 2D and 3D CAD drawings, rectified images and 3D Walkthrough's either at the time or at a later date. As Laser Scanning is a reflectorless technology it is particularly suitable for surveying difficult to access or hazardous areas or where access is limited.
We have used laser scanners to survey detailed rock faces and cliffs – producing detailed CAD sections for stabilisation projects and for a series of historic structures where highly detailed elevations showing all block work and joints were produced.
TOTAL STATIONS: Our Leica TS16 Robotic Total Stations combine high accuracy angle measurement with distance measurement and coded recording. This allows us to efficiently survey details in 3D and 2D either using reflector poles or using reflectorless laser technology to survey inaccessible features such as building ridge and eaves, or areas with no safe access, such as live railways. Our Robotic total stations are set-up for one man operation to maximise productivity. Our high accuracy 1" total stations are used to carry out monitoring surveys to determine small movements of buildings, structures and earthworks over time for analysis.
GNSS SYSTEMS: The technology historically referred to as GPS. The systems we use, utilize both GPS (U.S.A.) and GLONASS (Russian) satellite systems, and are ready for the upcoming Galileo (European) and BeiDou (Chinese) satellites. Our GNSS Systems allow for rapid survey of large open areas and also for accurately relating site locations to Ordnance Survey Grid and Level Datum, whether the site is located in built up areas or in the remotest parts of the country. GNSS is the established method of determining level datum as recommended by the Ordnance Survey, and is accepted by the Environment agency for flood risk assessments. Our Leica GNSS equipment allows efficient data collection with office based processing or with real-time co-ordinates using our Smartnet correction service in the field. GNSS is typically used for long route surveys for utility pipelines, highway and railway routes and for rapidly collecting level information over large areas such as fields, beaches and landfill sites.
DIGITAL LEVELS: Anthony Brookes Surveys uses the latest Leica DNA03 digital levels for precision levelling and for high accuracy monitoring surveys. We monitor a series of reservoir dams, earthworks and structures on an ongoing basis. Digital levels use a precise barcoded staff to give reliable results to a fraction of a millimetre.